Great Alvey Challenge
Big News: Great Alvey Challenge Announced!
National Gone Fishing Day is on 15th October this year and ANSA QLD are encouraging Queenslanders to rig up their favourite Alvey Reel (or buy one from your local tackle shop) and go fishing!
To celebrate an Aussie and Queensland fishing icon, we will be running a one day fishing competition in Queensland waters open to all anglers.
Only Alvey, non-drag sidecast reels can be used for this competition and all of the prizes up for grabs will be Alvey reels and gear!
This is a great opportunity to get out an enjoy a day on the water.
There will be a variety of fishing categories for individual species as well as a special BreadnButter Grand Slam!
The BreadnButter Grand Slam will be judged on the longest combination of bream, whiting and flathead.
There will be sub-junior, junior and senior male & female categories to encourage family fun.
Entry fee is only  $20+ registration charge for the general public (which includes $10 day membership) and $10 + registration charge for ANSA QLD members.
With $10 from each entrant going to purchase of Alvey gear for our competition prizes, fishing this event is also a way to lend a hand in support of a great Aussie Icon.
Register for this great event now!
Challenge Rules
Challenge rules including prizes are out now! They are supplied below or can be downloaded as a pdf.
The number of prizes offered will be based on the number of registrations.
Fish captures are submitted online. Read through the step by step guide to learn how to do this and details needed for capture submissions.
Announcing the Great Alvey Challenge Golden Ticket!
Everyone who registers to fish in the Great Alvey Challenge will get one chance to win the lucky Golden Ticket!
So what is the Golden Ticket?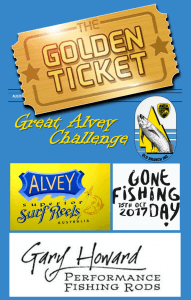 Glad you asked! Just like in Willy Wonka, the golden ticket holder will get to visit a factory and not just any factory, but of course – the Alvey Factory!!
This is a special place where sidecast reel enthusiasts will feel like kids in a candy store!! The Golden Ticket winner's factory tour guide will be…
None other than Bruce Alvey and the winner will be able to ask any question that comes to mind about this iconic Queensland brand!
Just like any Golden Ticket tour, the winner gets to take something home. In this case the winner will check out the range of reels and get to go home with a shiny new Alvey of their choice up to the value of $300!!
If that isn't already enough, Gary Howard from Gary Howard Performance Fishing Rods has kindly offered to supply an immaculately balanced rod to match the winners factory tour selected Alvey reel!
How good is that!
enter now https://www.registernow.com.au/secure/Register.aspx?E=26970
Final comp rules, fishing categories and prizes will be announced soon! Until then, what we can tell you is that the number of prizes will be directly influenced by the number of registrations, with more fishing categories and prizes unlocked after every 100 entries.
Check out the up-to-date participant list.
Stay in the loop by liking the ANSA QLD Facebook page
Drop back in the future as more details are to be announced soon!