TROPHY FISH (LENGTH ONLY) COMPETITION RULES
ANSA Queensland has developed the Trophy Fish (Length only) Competition to meet with the expectations and practices of the next generation of recreational fishers. This Competition is designed to allow the use of the most up-to-date line technologies and the use of the latest communication technologies by lodging captures and viewing the results using our online Leaderboard. The State Executive believes that this style of competition will foster more interaction in the State Based Competitions and between Clubs and Individuals.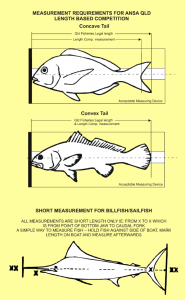 Fish are to be measured using DEEDI length regulations and/or ANSA QLD minimum lengths, but caudal fork length will be the measurement used for the determination of longest fish of each species.
Anglers are required to submit a mandatory photo of the fish on an acceptable measuring device, (the side of the boat in the case of billfish/sailfish) with both head and tail centred and clearly visible. An optional photo of the fish being held by the angler is encouraged. The photo of the angler will be the preferred choice for publication on the web, but if unavailable the mandatory photo will be used.
Capture details must be submitted online and each fish entered must have been captured during the competition year (1st July to the 30th June the following year). Measurements are to be in millimetres (mm).
To beat a current capture, the new one must be at least 5mm bigger than the current capture. (i.e. to beat a 505mm Bass you need a 510mm Bass)
At the end of the competition year, all species are reset to zero ready for the new Competition Year.
There are no line classes or divisions but the tackle and fishing rules must meet ANSA requirements.
There are four leaderboards (Junior, Senior, Angler and Club).
The winning angler for each species will receive a certificate via email.
All captures must comply with all Fisheries Regulations.
Where a species has been submitted as a capture from an impoundment, only captures from impoundments listed in the Fisheries Regulations as recognised impoundments may be accepted.
Anglers have two (2) weeks from the end of the fishing year to submit a request to review a submission or to challenge the results of the competition, after which all results shall be final and no further correspondence will be entered into.
ANSA QLD reserves the right to remove any and all capture submissions as and when they deem it necessary.