ERIC MOLLER AWARD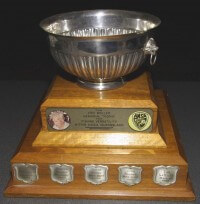 This is the most honoured award offered by ANSA Qld Branch Inc. Submissions are prepared by Clubs who nominate a worthy member prior to the Annual ANSA Qld State Conference.
The guidelines are laid out below:
1 The trophy is a perpetual one, remaining in the control of the Queensland Branch and can be won by an individual once only. A facsimile of the award will be sent to the Club for presentation to the successful nominee.
2 Only registered members of Clubs affiliated with ANSA Queensland Inc are eligible for nomination. The submissions must be formulated and forwarded by Clubs, NOT INDIVIDUALS, and only one nomination per Club is acceptable.
3 It is not in keeping with the ethics of the award for a member to asked to be, or expect to be, nominated. In many cases the nominee is unaware of the nomination.
4 In assessing each candidate's profile, contribution to the person's Club and angling achievements will be considered on an equal basis.
5 The Club is to write a submission, which sets out their nominee's dedication and assistance to the Club and the ANSA principles and their angling versatility. Fishing versatility may include achievements in progression towards Master Angler Awards, participation in bluewater, inshore, landbased, freshwater, tagging etc.
6 The Award is designed for an all round angler who catches fish in most conditions and contributes meaningfully to the well being of his/her Club and participates regularly.
7 The nominations will be read to the Club delegates present during the Annual Conference. The delegates will then vote for the recipient of the Award by means of a secret ballot.
8 The decisions of the delegates present will be final and no correspondence will be entered into after the result is announced.
9 To be nominated by one's Club is an honour in itself, however there can only be one winner each fishing year and submissions for unsuccessful nominees are encouraged to be resubmitted.
10 The announcement and presentation of the Award will be made on the Saturday night of the weekend of the Annual Conference.
11 All Senior and Junior members are eligible to be nominated.
AWARD HONOR ROLL
| | | | |
| --- | --- | --- | --- |
| 1982 | Mick Dohnt | Brisbane Sportfishing Club Inc | |
| 1983 | Bill Bowtell | Keppel Bay Sportfishing Club Inc | |
| 1984 | Don Porter | Tag and Release Sportfishing Club Inc | |
| 1985 | Don Woodford | Gold Coast Sportfishing Club Inc | |
| 1986 | Bill Sawynok | CAPTAG Sportfishing Club Inc | |
| 1987 | Bill George | Tully Sportfishing Club Inc | |
| 1988 | Bob Collishaw | Maryborough Sportfishing Club Inc | |
| 1989 | Lawrie Smith | Hinchinbrook Sportfishing Club Inc | |
| 1990 | Don Boneham | Maryborough Sportfishing Club Inc | |
| 1991 | Steve Watson | Brisbane Sportfishing Club Inc | |
| 1992 | Marina Hoare | Cairns Sportfishing Club Inc | |
| 1993 | Peter Mulhall | Bundaberg Sportfishing Club Inc | |
| 1994 | Alex Nissan | Ipswich United Sportfishing Club Inc | |
| 1995 | Warren Steptoe | Brisbane Sportfishing Club Inc | |
| 1996 | David Moore | Bribie Island Sportfishing Club Inc | |
| 1997 | John Doohan | Bribie Island Sportfishing Club Inc | |
| 1998 | Tim Galletly | Mackay Sportfishing Club Inc | |
| 1999 | Bob Carruthers | Brisbane Sportfishing Club Inc | |
| 2000 | Ross Cobb | Brisbane Sportfishing Club Inc | |
| 2001 | Ray Hoon | Hinchinbrook Sportfishing Club inc. | |
| 2002 | Meredith McCrae | Bribie Island Sportfishing Club Inc | |
| 2003 | Jeff Snell | Cardwell Sportfishing Club Inc. | |
| 2004 | Lloyd Willman | Southern Brisbane Sportfishing Club | |
| 2005 | Neville and Val Cooper | Hinchinbrook Sportfishing Club Inc. | |
| 2006 | Greg Smith | Cardwell Sportfishing Club Inc. | |
| 2007 | Keith Hoare | Cardwell Sportfishing Club Inc. | |
| 2008 | Graeme Read | Collinsville Sportfishing Club Inc. | |
| 2009 | Peter Griffiths | Bribie Island Sportfishing Club Inc. | |
| 2010 | Harvey Low | North Queensland Flyfishers Club Inc. | |
| 2011 | Ken Hunt | Townsville Saltwater Sportmans Club Inc. | |
| 2012 | John Cumberland | Southern Brisbane Sportfishing Club | |
| 2013 | No Nominations | | |
| 2014 | Noel Day | Redcliffe Sportsfishing Club | |
| 2017 | Bob Dover | Kingaroy Sportsfishing Club | |
| 2018 | Helen Johnson | Bundaberg Sportsfishing Club | |
| 2019 | Bruce Cowie | Keppel Bay Sportsfishing Club | |
| 2020 | Shaun Manthey | Kingaroy Sportfishing Club | |
| 2021 | Brian Fleming | Keppel Bay Sportfishing Club | |
| 2023 | Adam Royle | Hinchinbrook Sportfishing Club | |
| | | | |