RON DEMPSTER AWARD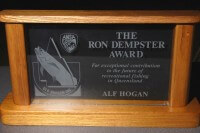 The Ron Dempster Award is given to an individual for outstanding contribution to the enhancement of recreational fishing in Queensland.
The guidelines for the Award are:
1. The Recipient is nominated by the State Executive.
2. The Recipient does not have to be an ANSA member.
3. The Award does not have to be bestowed annually.
4. The Award is announced during the Annual Conference.
RON DEMPSTER AWARD HONOUR ROLL