2019 Sunshine Coast Sportfishing Festival
Oct 4, 2019

-

Oct 7, 2019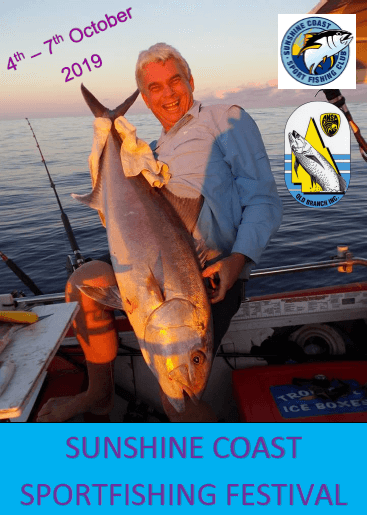 WELCOME TO THE SUNSHINE COAST
The Sunshine Coast is a fantastic place to visit with beautiful sandy beaches and tourist attractions that suit the entire family. Our event will be based at Waterfront Hotel near the Maroochy River. Although the river is heavily fished, the estuary produces many species. Offshore enthusiasts are blessed with an abundance of close reef within 4km of the shoreline.
Friday 4th
Meet and Greet will start at 5.30pm at Waterfront Hotel, 2/46 David Low Way, Maroochydore. During this time there will be a briefing for the weekend's fishing competition and capture sheets will be distributed. Guests who wish to dine are to order and pay for their own meals. Please buy your own drinks.
Saturday 5th
Fishing will commence at 5.30am and finish at 3pm Saturday. After the day's fishing, guests can relax, shower and by 5.30pm make their way to Waterfront Hotel for the start of the evening presentation and roast dinner. Dinner will be provided to all registered participants. Please buy your own drinks. ANSA Qld's annual presentations will commence after dinner. The evening will end around 10pm.
Sunday 6th
Fishing will commence at 6.00am and finish at 11am. Competitors are asked to be at the Waterfront Hotel by 12.30pm for a pie and hotdog lunch. Lunch will be provided to all registered participants. Please buy your own drinks. Competitors must submit their capture sheet at Waterfront Hotel by 12.30pm. Once all capture sheets have been collected and collated, there will be a presentation. The ANSA Qld AGM will follow lunch and the Fishing Festival will be closed.
Monday 7th (Queen's Birthday Holiday) Visitors have the day free to enjoy the Sunshine Coast and make their way home.
ACCOMMODATION
There is plenty of accommodation on the Sunshine Coast, however as it will be the Queen's Birthday long weekend, places will fill quickly.
Waterfront Hotel (Ph. 54582777). Motel rooms available. There is ample room to park a boat. The car park has good lighting but is not gated. (This can be viewed on Google Maps satellite view).
Maroochy River Park (Ph. 54433033). Situated beside the Maroochy River Bridge, 1.9 km from the competition headquarters at Waterfront Hotel. Waterfront Hotel runs a courtesy bus which will travel to the caravan park on request. Courtesy bus bookings: Ph. 0439549097
ANSA Qld is offering 1 night free for a campsite at Maroochy River Park for the first 20 families / club member groups who RSVP and request a campsite. RSVP online when registering for the Fishing Festival. Early birds will be informed how to book their remaining nights for campsites once all the sites are snapped up. Sites can hold up to 4 people, so talk among your club to get as many on each site booked as possible.
COSTS
Event entry fee is $25 which includes function room hire at Waterfront Hotel, Saturday roast dinner, Sunday pie and hotdog lunch and fishing prizes. Good News!! ANSA Qld will waive the $25 entry fee for the first 100 members who register via the online form. Late entries after the first 100 members will be charged $25.
Registration: https://www.ansaqld.com.au/sunshine-coast-sportfishing-festival-registration-page/
FISHING COMPETITION
TOTAL LENGTH THREE SEPARATE SPECIES – six categories

 

OFFSHORE
ESTUARY
Senior
Senior
Junior
Junior
Mystery length
Mystery length