2024 QLD SPORTFISHERS STATEWIDE SPECIES CHALLENGE
May 4, 2024 @ 12:01 am

-

May 6, 2024 @ 6:00 pm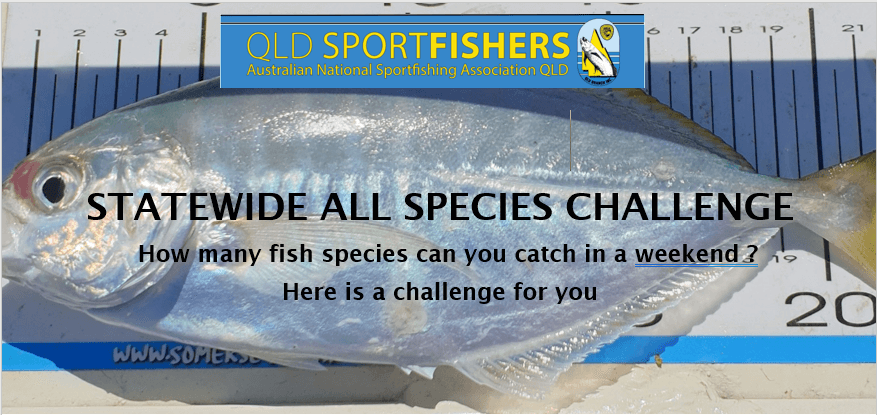 QLD SPORTFISHERS STATEWIDE  SPECIES CHALLENGE.
This statewide event may be run in conjunction with any other club events.
REGISTRATION:
No formal registration is required and the event is FREE to all ANSA members!
AIM:
The STATEWIDE SPECIES CHALLENGE is an event that reflects the fundamental challenge of fishing, that being the challenge of fisherman vs fish. The Challenge is instituted so that Anglers can join and fish together across Queensland over the same weekend. The only objective is catch as many different species from the ANSA Queensland species list as possible in three days.
This is the perfect event for kids and anglers seeking to challenge themselves beyond the traditional "catch the biggest/most fish".
REGISTRATION:
All members of ANSA QLD are eligible to fish the challenge. Non ANSA members may be granted temporary membership for the event but are required to pay a temporary membership fee. Contact your clubs ANSA delegate or ANSA QLD for more information. ANSA Qld Contacts
BOUNDARIES: 
All fishing is to be conducted in Queensland waters.
HOURS OF EVENT:
The Challenge commences at 12:01am on the Saturday 4th May and concludes at 6:00pm Monday 6th May (entries to be completed before midnight on Monday the 6th May).
TACKLE AND METHODS:
Any sportfishing tackle and/or method that includes a fishing line may be utilised.
NOTIFICATION OF CATCH:
Fish captures must be entered using the ANSA QLD online ENTRY FORM and must be submitted before midnight on Monday 1st May. A helpful hint is to submit your species as you go.
SCORING:
Anglers receive one point for every different species they register during the challenge. Anglers need to get a quick photo of the fish (preferably with the angler) for identification. Anglers who wish to also be eligible for other ANSA QLD competitions must also provide a photo of their fish on an appropriate measuring device. Fish may be kept or released; all fish not meeting legal requirements must be release unharmed as quickly as possible.
PHOTOGRAPHS:
All participants agree that any photos they provide may be used on social media updates for the event and in ANSA Queensland promotional materials.
ELIGIBLE SPECIES:
Only those species listed on the ANSA QLD online Entry Form are eligible. To assist anglers a copy of the general ANSA QLD Eligible Species can be found at www.ansaqld.com.au/competitions/eligible-species-list
PRESENTATION OF AWARDS:
INDIVIDUALS
The Challenge is essentially a social event and not a hard-fought competition. It is recognized however that those who meet the Challenge deserve recognition by their peers and so each category winner will receive an awesome prize pack from QLD Sportfishers. Awards shall be for the following:
a) Individual Senior Male.
b) Individual Senior Female.
c) Individual Junior (10-16yrs)
d) Individual Sub-Junior (<10yrs)
CLUBS
The species challenge is a great way for clubs to share their experiences on the water. As such, QLD Sportfishers will award the winning club with a $100 gift card to go towards catering supplies for a club BBQ so that members can celebrate their win.
MAJOR DRAW
The major prize winner will walk away with ( A PRIZE )from QLD Sportfishers. The winning angler will be selected by random draw from all participants who enter at least one fish during the challenge.
Official notification of the winning anglers and clubs will be posted on the QLD Sportfishers website and/or Facebook page once officials have verified the winning anglers.
QLD Sportfishers reserves the right to remove any and all capture submissions as and when they deem it necessary.